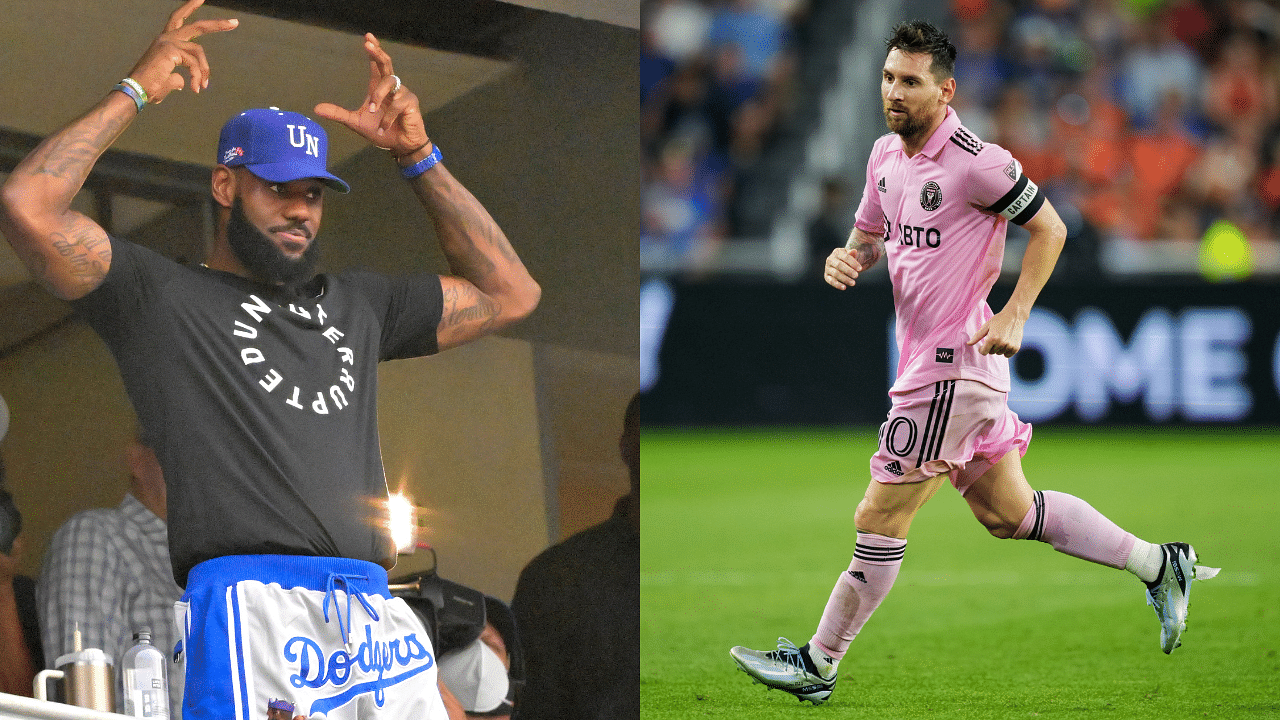 The NBA's highest earner, LeBron James, made a whopping $227 per minute in 2022, which translated to around $119.5 Million, according to Forbes. Despite being comprehensively the most lucratively paid basketball player, James still lags behind Inter Miami's Lionel Messi, who made a whopping $130 Million during the same time, according to Forbes. This represents a gap of around $10,500,000.
As both LeBron and Lionel Messi are considered the GOATs of their sports, the comparison between the two's earnings is only natural. LeBron James was one of the members of the audience when Lionel Messi recently made his debut for Inter Miami. While the gap is not overtly huge, James is only 4th on the list of the highest-paid athletes in the world in 2022, a list which is dominated by footballers.
Lionel Messi made $10.5 Million more than LeBron James in 2023
LeBron James's contract with the Lakers nets him an annual salary of around $44.5 Million, in 2022. This is in addition to his off-court earnings, which have been estimated to be around $75 Million by Forbes. This includes LeBron's earnings from investments, partnerships, social media, and other sponsors that he has.
Lionel Messi on the other hand, had a contract that paid him $65 million in 2022. This includes around $41 Million in salary that he earned from Paris Saint Germain, along with other earnings-related clauses from the contract. Messi earned a further $65 Million off the field which effectively doubled his overall earnings.
With total earnings of $130 Million, he has outearned LeBron James comprehensively, according to Forbes. James's earnings represent a whopping sum of $227 per minute. This has been calculated by dividing his 2022 earnings (119,500,000) by the total number of minutes in a year (525,600). Applying the same formula to Messi's earnings, his $130 million per year translates to around $247.36 per minute.
Furthermore, Messi's earnings are set to undergo a huge rise in 2023 due to his contract with Inter Miami. The 7-time Ballon d'Or winner Messi will have a lucrative contract that promises him $54 Million in addition to various other earnings.
Michael Jordan earned more than Messi via one deal alone in 2022
While Lionel Messi is one of the highest-paid athletes of all time, he is still some way behind Michael Jordan. Jordan's famous Nike Deal earns him millions every year.
Air Jordan is known to have earned Nike over $1.3 Billion in 2022 alone. This translated to around $256 million in earnings for MJ in 2022.
While he hung up his boots decades ago, Jordan is still raking in the moolah. A huge global empire alongside Nike means that he comfortably outearns some of the most successful current athletes.