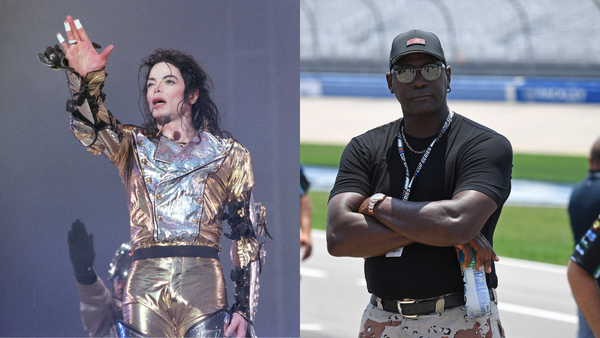 MJ. It's an abbreviation for two of the most legendary people to ever walk the Earth. While one of them dominated the basketball court, the other marked his presence as a musician. Michael Jordan and Michael Jackson were the two most memorable names during the 90s, each setting the highest of standards in their respective fields.
It's not common knowledge, however, about what led to the first meeting between the legends. A recent interview answered that question.
Michael Bivins talks about how he got the two 'MJs' to meet for the first time
A few days ago, American singer Michael Bivins sat down for an interview on Matt Hoffa's 'My Expert Opinion' show. During the lighthearted discussion, the main topic of interest fell toward some of the best moments of the Bivins' life. For the singer, the answer was obvious. Bivins replied that it was the time he met Michael Jordan and Michael Jackson at once.
The singer took the viewers back to a moment when Michael Jackson was shooting a music video, alongside "ABC", at the Sony Lot. At the same time, Jordan was "down the walk, down the joint in the Winnebago."
Knocking at the door, it was brought to the singer's attention that the Chicago Bulls player was busy playing a cards game.
"I'm like 'Yo yo Mike, I need you to do me a favor'. He was like, he was like, 'What you need?' I said 'Man, you got to come meet ABC,'" explained Bivins, recalling what he said to His Airness.
Bivins waited impatiently after Jordan said that he would be with him in the next 15 minutes. When asked if he had ever met Michael Jackson, the NBA player replied in the negative. As the two legends met for probably the first time, Jordan asked Bivins to join them for a photo.
In a behind-the-scenes moment shared online, Jackson discusses playing a game of basketball alongside His Airness.
"We had to play one-on-one. It was so embarrassing," said Jackson during a voiceover of the clip. From trying to get the ball from Mike to missing every shot he made, Jackson was seeing how difficult it was to be the other MJ.
The singer, however, got his chance at the end of the video. Once the game was over, Jackson brought out some of his iconic dance moves. With Jordan trying to copy Jackson, the moment couldn't be described as anything other than iconic.